The web abounds with bucket lists of to-do's in Athens: see the Acropolis, visit the museums, have a kebab at Monastiraki, coffe and cake at Little Kook, and don't forget to visit Anafiotika (which happens to be the first illegally built settlement that was legalized in Greece in the year 1855). But there is no bucket-list of not-to-do's, one of which might be to move there. Daily life in Athens is rarely about the Acropolis for most residents: when searching for sustainable city living, Athens will probably be at the bottom of most people's lists - factors such as the lack of green spaces, congested roads, badly insulated homes, inadequate commuter services and the psychological damage that strikes and protests do to the local residents turn people away from the city.
Agriculturl land eventually turns into settlements and trees for shade...
Above: Aerial photos of Mati in 1945 and 2007. (photo from https://www.facebook.com/photo.php?fbid=1673137949406830&set=a.475562845831019.1073741826.100001319224494&type=3&theater)
Below: Mati in June 2018 and after the fire.

But the city beckons and this is true for all of us. The pull-push factors involved in large city life all over the western world show how bipolar we all are when it comes to our feelings for city life. We may either love it or hate it - but we all need it at some point in our life. And some of us jsut cant do without it. On the one hand, you can find anything you want and not just need in a city; on the other however, large western cities can sometimes feel overwhelming: concrete jungles, urban sprawl, a polluted atmosphere all create a stifling environment. We all feel the need to get away from that whenever we can, no matter how much we love city life.
From the great upheaval of WW2 in Greece, which left sustainable well functioning rural communities completely destroyed from the atrocities of the Nazis, came the need to leave the countryside and venture to the city to find one's luck. Domestic migration to Athens consisted of the farming class coming to the city to find better luck. Once you come to the city, you dont go back to the countryside, except perhaps to retire, when another member of the family needs the family home. In this way you have sealed your fate, and there's no turning back.
But the rural instinct of the Greek always gnaws away at his/her conscience. A place to plant a garden, some trees for shade, the cool breeze of the sea - and all of this preferably close to the city. Very close. Find some land, grab it, build on it, plant trees around it, use a generator if you have to! dig up a well! and legalise it later (if ever)! Illegal construction has been a facet of Greek life for a century or so. And all within easy reach of the city: love it or leave it, we have to be near it.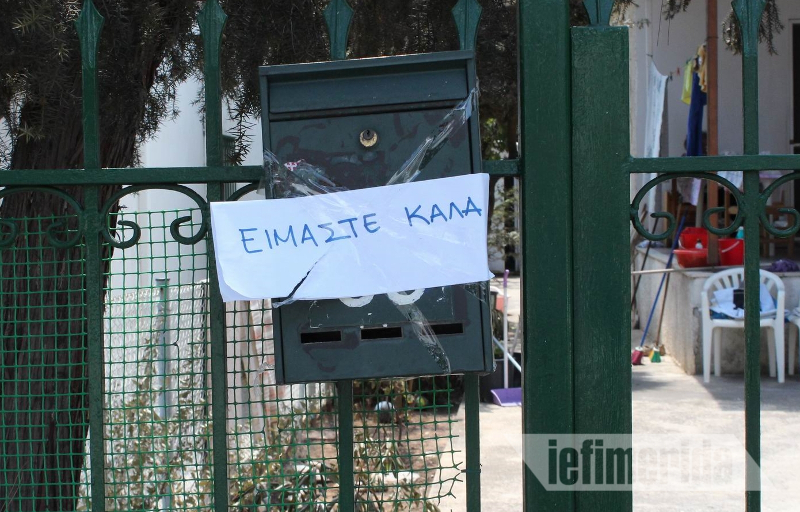 EIMASTE KALA - WE ARE OK
(from http://www.iefimerida.gr/news/434240/martyries-sto-iefimerida-den-mas-proeidopoiisan-astynomikoi-i-pyrosvestes-metaxy-mas)
Formerly rural land gave way to forested settlements. They sprung out of the need for city people - whatever their class, income and occupation - to get away from the concrete jungle without being far away from it. In the words of a famous Greek composer, Yanis Markopoulos, "Greeks want a computer by their side for their daily needs, but at the same time, they want to plough their land". Indeed! We all want a place in the sun with trees for shade and a view of the beach.
The weekend country house becomes the permanent dwelling in retirement. Eventually, the houses are passed on to their children/grandchildren. Such settlements are not built on the lines of a class society: there is a mix of wealthy and low-income earners. Whoever got there first secured their future - and in turn sealed their fate. What bound everyone was their close connection with with the city, the Big City. Musicians, film directors and actors neighboured civil servants, electricians and lawyers. Democratic equality on the face of it all... but dig deeper down and you will find the clearly more privileged set. The owners of the 'fillets' are more likely to be the leaders of these little communities. Nepotism secures similar positions for their family members too. Some of us are more equal than others.
Due to the low visibility, the 26 people who died on this 'fillet' of land couldn't see the gate that led down the cliff to the beach. The land is owned by local politicians in the area. (photo from https://www.facebook.com/photo.php?fbid=2058344330843598&set=a.158834907461226.36984.100000041524137&type=3&theater)
But the essence is the same: everyone wants a place to get away from the city, at the same time as being close to it. Weekends at the country house, a home to retire to, a place to drop off the children in the summer... As parents frantically searched for their children in the fire, most of them already knew where to look: the grandparents were found hugging their grandchildren, locked in embrace. It took three generations to for their choices to seal the family's fate.
Amid fear and suspicions,
with agitated mind and frightened eyes,
we melt and plan how to act
to avoid the certain
danger that so horribly threatens us.
And yet we err, this was not in our paths;
the messages were false
(or we did not hear, or fully understand them).
Another catastrophe, one we never imagined,
sudden, precipitous, falls upon us,
and unprepared -- there is no more time -- carries us off.
©All Rights Reserved/Organically cooked. No part of this blog may be reproduced and/or copied by any means without prior consent from Maria Verivaki.