Ήμασταν ζωντανοί νεκροί (We were the living dead)
μας δίνανε μ' ανταλλαγή (they exchanged us for)
τη μπόμπα την ατομική (the nuclear bomb)
Το Ισραήλ για να σωθεί (To save Israel)
ακόμα ο στόλος ναυλοχεί (the fleet is still charging forth)
γεμάτη πόρνες η ακτή (the coast is full of prostitutes)
κι αν φύγανε οι Γερμανοί (so what if the German left)
ήρθαν οι Αμερικανοί (the Americans came)
καινούρια πάλι κατοχή (again a new occupation)
Panos Tzavellas, Ξυπνήστε (Wake Up), 1975
https://www.youtube.com/watch?v=XGqG9FYwMUA
The
17th of November is supposedly a day of commemoration in Greec
e, in remembrance of the events on 17 November 1973 at the Athens Polytechnic. It invariably starts with what sets out to be a peaceful march through some central Athens thoroughfares; by the time the marchers get to the terminal (the US embassy), the march turns into a violent street brawl, composed mainly of hoodies, with costly damages made against public and private property. Leftist struggles against capitalism lose their meaning in such actions. This has in effect happened with the date of the commemoration of this event, which lent itself to the name of a now defunct Greek terrorist organisation, 17 November (abbreviated to
17N
) with a world record of "27 years of deadly political violence before the first arrest" of one of its members, which sparked its unravelling. Most but not all members of 17N were identified, arrested and jailed, effectively putting an end to the fear that had overtaken Greek society of an attack staged by them. Home-grown Greek terrorism still exists, but in a less organised microform compared to 17N. Most of the time, the perpetrators of such crimes are caught: they are often young people (mainly men) disillusioned with the failings of their personal life, which they blame on the government, and the deterioration of a capitalistic society. A 29-year-old, believed to be working with the Conspiracy of Cells of Fire group and accused of sending letter bombs to Greek and German politicians, is the latest to be arrested (see
http://www.lifo.gr/now/greece/166427
).
Last week, Dimitris Koufodinas, one of the most loyal members to the 17N ideology, was released from jail on temporary leave, which raised a political storm both in Greece and abroad, not least because another member who had been granted furlough two years ago did not return to jail until he was rearrested after a year on the run. Provocative photos of Koufodinas were splayed all over the news websites as he came out of jail - followed closely by his wife, lawyer and son Hector (whose birth father was registered under the name of another 17N member, a former husband of hector's mother because Koufodinas lacked valid ID) - with a huge smile on his face and his arms outstretched as if ready to embrace long lost friends.
Understandably many people whose lives were upturned by 17N's murder of loved ones were hurt by this action, but it also has to be said that it was a perfectly legal action and Greek law was being implemented to the letter, as even the Greek prison officers' federation was quick to point out (see
http://www.cnn.gr/news/ellada/story/105006/omospondia-sofronistikon-ypallilon-o-koyfontinas-dikaioytai-adeia
). If you have read "Greek Urban Warriors: Resistance & Terrorism 1967-2017" (GUW) by John Brady Kiesling, then you will know how astute Koufodinas has always displayed himself in his ideological beliefs, and what a 'model' terrorist he was - a rebel, supposedly 'with' a cause.
Kiesling was once a career diplomat serving US embassies until he resigned during his term in Athens (see
http://www.nytimes.com/2003/02/27/international/us-diplomats-letter-of-resignation.html
). His book on Greek home-grown politically motivated terrorism is a very thorough piece of work. The success of the book lies in the fact it has been written by a non-Greek who knows Greek society very well. Other accounts of Greek terrorism written by Greeks tend to melodramatise the ideals of the terrorists or simply write them off completely: accounts differ according to the political leanings (left or right) of the writers, as left- and right-wing factions make accusations against one another. Kiesling is not Greek, so he is more neutral in his analysis of the situations.
My main interest in reading GUW came from my assumption that Greeks are generally a disorganised race; how then, could anyone in this country have organised so many terrorist attacks over a period of a quarter of a century without being caught? Were it not for a failed bombing attempt in 2002 involving two of the members, one of whom was seriously injured and could not escape, 17N could probably have survived longer. When they were finally caught, we discovered that all those involved were a tightly knit group of Greeks, partly family and partly friends, masterminded by an eccentric ex-professor, with a handful of loyal servants to the cause. In essence, 17N was a group of thugs.
Apart from the analysis on Greek terrorism, GUW gives the reader a good idea about the political situation in Greece during each time period described, whenever an attack took place, tracing up to half a century of modern Greek post-WW2 history. The story of 17N is very useful for piecing together the events of recent times, covering important historical events, such as the military coup of 1967, the end of the junta in 1974, Greece's entry into the EU in 1981, the embezzlement scandals in the late 80s and the years of false prosperity in the 90s, leading to the arrest in the summer of 2002 of an almost dead 17N member Savvas Xiros, who doctors managed to bring back to life so that the police could make him sing, bringing the 17N racket down like a house of cards. Greek identity is not the focus of the book, but the account of the exploits of 17N as described in the book confirm various aspects of Greek identity and how Greek society has developed over those years. All the quotes below come from GUW.
The first victim of 17N was American Richard Welch, CIA chief of the US embassy, on 23 December, 1975, hence the dismay expressed by the US on hearing that a convicted 17N member was given leave, even though Koufodinas had nothing to do with this murder as it was way before his time. At the time of the murder, US influence (aka 'interference') was well established in Greece, since the execution of the Marshall plan:
"In 1952 Greece was an authoritarian state dependent on US economic support... an American protectorate..."
Anti-American sentiment had built up in Greece since then, and it was widely known that the US clearly supported the military dictatorship which had ended only 18 months before the murder. The Greek-American politician Spiro Agnew infamously stated that the junta was "the best thing to happen to Greece since Pericles ruled in ancient Athens". When the junta finally fell - the events of 17th of November 1973 in Athens were the first act which eventually led to this - and democracy was restored, a march from the centre of Athens to the US embassy has been held every year to remind people of the US's involvement in Greece's darker times. So it is quite ironic that Tsipras and Trump only very recently met up at the White House, saying nice things about each others' countries, given their extreme opposite political leanings (especially given that they were saying nasty things about each other only a few months before the meeting).
The struggle between left and right factions has been present since WW2 in Greece. The left have never forgiven the right from taking away their glory, even after the fall of the junta:
"Athens in 1975 was full of young activists wrapped in the glory of imprisonment or exile. The 'official' revolutionary organisation, the KKE [Greek communist party] weighted down by Brezhnev in Moscow, was deeply suspicious of ... liberated comrades in tight jeans... This slander, particularly because the KKE applied it to the heroes of the Polytechneion [the stage for the events that took place on the 17 November 1973], proved a serious tactical error. The Karamanlis government exempted members of the anti-Junta resistance from military service, apart from three months of basic training. Many of them settled in Exarcheia, an inexpensive, traditionally leftist neighbourhood just above the Polytechneion..."
In the history of the Greek left, we find many instances of members not being able to accept modern trends (like wearing jeans, a fashion originating in the US). It is this reason that sometimes blurs what defines the difference between extreme left and right, making them both sound like different sides of the same coin. They both exhibit elements of violence in their resistance to the status quo, and they renounce foreign influences, and this has continued up to the present time, with a softening stance on the part of leftist Syriza after the humiliating OXI vote; the left had to turn right in order to find the centre. The rise of centre-left PASOK, which won the elections in 1981 by a landslide just after Greece had entered the EU, gave 17N a chance to rethink their purpose. If Greece had a leftist government, what was their role now?
"At his first NATO summit in December 1981, Papandreou announced that Greece was 'forced to consider a process of disengagement' from parts of NATO it did not approve of. In the EU, Greece vetoed economic sanctions against the USSR for its intervention in Poland... Papandreou infuriated his European allies by rejecting the prevailing Atlantic consensus on the Middle East... But in doing so Papandreou was stage-managing a careful retreat from his election promises... PASOK had forgotten its election pledge of abolishing the MAT [riot police]... In terms of day-to-day law enforcement, PASOK would be little different from its conservative predecessors... By mid-1983... Koufodinas and his fellows were in firm, fierce agreement that the socialism implemented by PASOK was unworthy of being defended."
The left-right struggle explains the motives behind the second attack in 1976, directed against Evangelos Mallios, a policeman accused of torturing political prisoners during the junta period: the terrorists were taking revenge on what they regarded as the failure of the state to punish people like Mallios (who, by all accounts, sounded like a nasty man). The police took more notice of this attack than the first one, partly because 17N had never been heard of before; this is also the time when Koufodinas started to take a serious interest in 17N, which gave him his life's calling. The murders continued in this way: US servicemen and Greek police officers were the main victims until the mid-80s. The police were never really liked in the past, unlike now when they are more highly respected than they were 30 years ago - at the time, they were scorned for their origins and their leanings:
"Greeks watching police battling stone throwers in the streets of Athens do not automatically cheer for the forces of order. Contempt for policemen is partly a relic of history; in Ottoman times, police earned their reputation as cruel corrupt and politicised. Class snobbery also plays a role, in that the sons of poor villagers are recruited to police an urban society. "
The left-right struggle continued while PASOK was in power, exaggerated by the claims from both sides, firmly entrenching the two major parties. The media was now regarded as a propaganda tool:
"Prime Minister Papandreou warned of a vast right-wing scheme to destabilise the country. Conservative newspapers blamed Papandreou's secret army of leftists. KKE ... accused the CIA of planting ... bombs. Police used the excuse to search the houses of dozens of extremists and haul [them] in for questioning... ND [the centre-right opposition] organised a protest march and rally against the offices of Greek state television (ERT) ... Every governing party rewarded friendly journalists and the mistresses of cabinet minsters with ERT sinecures, but the scale of PASOK's media intervention had triggered charges from ND that PASOK was building a North Korean-style one-party propaganda machine."
At this point, Greek journalists and businessmen are added to the list of 17N's victims. In a country being governed by the left, the leftist terrorists had to find fault somewhere. When newspaper publisher Nikos Momferatos was killed in 1985, 17N charged that:
"the CIA had funded Momferatos to buy his newspaper 'in a systematic effort to make the more backward sections of the people stupid and torpid, offering various sentimental scandals and half-naked women, cultivating their lowest and crudest instincts. This proclamation introduced a new term, the 'lumpen big bourgeoisie' (LMAT). The government and LMAT were selling out Cyprus while de-industrialising Greece to turn it into 'the West's beach, a huge hotel, which will depend even for the basic necessities on imports, that is on loans from Western Banks'... servants of international capitalism and the multinational corporations."
PASOK was "perceived to have betrayed the popular strata that naively supported it." The same tune is sung in our times with Syriza's rise to power. 17N proclamations in the mid-80s showed the ambivalence 17N members felt towards capitalism and the West:
"After complaining that tax evasion was rampant, the author offered a harsh but scarcely revolutionary critique of the Greek educational system. The working class paid taxes but got a worthless education, since passing the examination for the state universities was impossible without private tutors. Admission to a state university entitled one to join the 'university proletariat' because the desirable jobs went to graduates of foreign universities. The 'hypernationalist, xenophobic' PASOK government pretended to be against foreign and private schools but let them function unimpeded. At the same time, the state promotes 'the superiority of ignorance' by obstructing bureaucratic recognition of foreign university degrees."
We recognise a lot of these traits among Syriza in their early days when they were in opposition. On securing power, they realised they had little choice but to continue in the same vein as their predecessors, in the same way that PASOK could not keep its promises in the late 80s:
"PASOK's leftist voters felt cheated by austerity budges, the continued US military presence, the co-option of the organised labor movement, and the first rumours of high-level corruption."
TheKoskotas scandal (see
https://en.wikipedia.org/wiki/George_Koskotas
) had just broken out, helping 17N to forge their belief in their cause: to fight against corruption, for justice of the λαός. By the late 80s, 17Ν began targeting Turkish embassy and military officials posted in Greece (two of whom were killed in the early 90s), adding the divided Cyprus issue to their causes, by linking the arch-enemy US with the Turkish coup:
"17N promised to fight rapprochement with Turkey until the Turkish army left Cyprus... A thoughtful handful of journalists were supporting Papandreou's Davos process, admitting that Greece had some share of responsibility for the Turkish invasion of Cyprus, that the US was a potentially helpful intermediary, or at least that negotiations with Turkey might be a good thing. 17N rejected these ideas firmly. US imperialism had orchestrated the Turkish invasion..."
Thus, Cyprus became a 17N cause, since Papandreou had already started discussions on the Cyprus issue with Turkey. Thus, 17N could carry on with its murderous activities. One wonders if these rebels really had a real cause. Having been bank robbers (to sustain their criminal activities) and murderers most of the time, one gets the idea that they were acting like common thugs. And since they had never been caught, they became legends:
"By the end of 1988, 17N had everything it needed to be one of the most dangerous terrorist groups in Europe. it now counted among its members several young men with weapons, discipline, practical skills, and proven courage. Their ideology - libertarian socialism - was all-embracing enough to transcend their personal moral objections to theft and murder. A major scandal had delegitimised the current government and the entire Greek political system. Appeals to Greek nationalism ... could help energise Greece's pre-socialist proletariat to consider the need for revolutionary solutions. Simultaneously, 17N was taken with the idea that it could help fill the political vacuum the scandals had created... 17N printed up and scattered little campaign fliers and stickers with a 17N star logo calling for 'People's Power and Socialism with 17 November' ... a little stack of them was found in a safe house 14 years later."
To add to 17N's cause, the leftist PASOK eventually lost the elections, thanks to the Koskotas scandal, and centre-right ND came to power in 1990. By then, 17N had become a highly discussed topic in Greek political debate. The disorganised Greek state of the time could not stand up to 17N's well developed organisational skills. On 3 February 1990, 17N proved a formidable power in a comical farce when they stole nothing less than bazookas from the Athens War Museum:
"... a white Toyota ... parked illegally... Five well-dressed men in sunglasses... walked up the steps of the Junta-era ochre cube... The guards at the War Museum were unarmed and somnolent, their closed-circuit cameras out of order. The men pulled out handguns, explained politely but briskly that this was an exercise, and asked the guards and two visitors to gather against the wall. Three ... men then went upstairs where they immobilised two more guards and a pair of French tourists. One of the men cut the wires attaching the ... bazookas to their wooden display case and put them in a large plastic bag... they placed a cardboard box in the entryway with a wire sticking out and explained that this was a bomb with a motion-sensitive detonator. They climbed into their car and drove away. The cardboard box did its job well enough that no eyewitness spotted the license plate."
A year later, the left-right divide was blurred once again with the death of a leftist by a group of right-wingers:
"On Jaunary 8, 1991 a group that included a local cadre of the ND youth wing ONNED burst into an occupied school in Patras and fatally bludgeoned a far-left teacher named Nikos Temboneras."
This was not a 17N attack. But it was part of the same political crisis that gave forth groups like 17N. Temboneras' son recently rebuked ND, when they showed dismay concerning Koufodinas' prison break: "
Ξεχνά προφανώς ότι και εμείς πήγαμε σε κηδείες
." Left and right violence is essentially of the same nature: everyone involved in such activities is nothing less than a thug. Thuggery was once again shown in 17N's failed attempt to kill Ioannis Paleokrassas, the ND Minister of the Economy for doing exactly what 17N believed in - weakening bank secrecy and combatting tax evasion:
"17N was certain the state planned to tax ordinary workers on the income from their moonlighting jobs while giving wealthy tax-dodgers an amnesty to legalise their hoarded wealth."
So we understand that making banks more open and collecting more taxes for the state was welcome, but only as long as the 'other' side was being punished and the 'goodies' were allowed to continue as usual. But 17N made a fatal mistake: instead of killing Paleokrassas, 17N killed a young man, an innocent bystander, in the botched operation. (I was in Athens centre the day that this murder took place, having been in Greece only a year at the time. The event made me wonder what I was doing choosing to live so close to random danger.) For Koufodinas, ever the ideologist, who was constantly searching for (and finding) reasons to justify his involvement in murder, this was a major setback. He knew 17N would be regarded by the public as just a group of thugs, something he so painstakingly tried to prevent:
"... for Koufodinas, the aftermath was the turning point for 17 November, a shift that caused the Organisation, then at the height of its capabilities and influence, suddenly to go limp, to turn into a mere team of militants again. There should have been a major strategic reevaluation at that point... because the Greek people were still passive spectators in this political process despite all 17N had done on their behalf."
What exactly had 17N done for the Greeks? Nothing. It was by joining the EU that Greece finally got out of its poverty trap and steadily progressed (albeit on false premises) from a backward low-income country to a wealthy nation where everyone could dream of and have a fitted kitchen just like the ones we see in American films. Just a year before this murder, 17N had killed a black American serviceman, sparking another negative reaction on the part of the public due to the race factor involved in this crime. He was working at the Hellenikon US army base which was vacated by the US in that same year. Greece was changing, slowly ubt surely. By the mid-90s:
"... Greece's industrial base had evaporated. Propaganding socialist revolution to a country of civil servants and small shopkeepers required new ideas, but the far Left did not have them. ... 17N was not ready to abandon the armed struggle, but its sparse disconnected attacks and proclamations reflected a failure of internal leadership and ideology... To justify its deadly violence, 17N needed a more persuasive 'ism'. Nationalism was all it had left."
In other words, the leftist organisation turned to ideals often associated with the far-right, as it had nothing 'left' to strike at. On 16 February 1996, the US embassy in Athens was attacked, with 17N firing a bazooka (the one stolen from the War Museum), which fell into the carpark area, damaging vehicles. In February 1998, they exploded bombs at 2 McDonalds outlets and damaged the GM Detroit General Motors showroom, all in the northern suburbs of Athens, which are often associated with wealthy Greeks and foreigners:
"The heart of the McDonalds proclamation was a defesne of Greek nationalism as the natural patriotism of a struggling people. By contrast, [as] 17N asserted, American, European and Turkish nationalisms were inherently racist, based upon a sense that ethinic superiority gave them the right to dominate lesser breeds and turn them into junior versions of themselves."
Αt this point we could say that 17N είχε μπερδέψει τα μπούτια της, as the Greek saying goes, although their hatred of the US did manage to have one important outcome: President Clinton's visit in November 1999, set to coincide with the 17 November commemorations, was shortened to just one overnight stay. Not only that but the Greek President George Stefanopoulos basically got an apology for American interference in Greek politics during the years of the military dictatorship. The following quote comes from Clinton's speech in Athens:
"When the junta took over in 1967 here, the United States allowed its interests in prosecuting the Cold War to prevail over its interests - I should say, its obligation to support democracy, which was, after all, the cause for which we fought the Civil War. It is important that we acknowledge that."
According to a 17N member, Koufodinas did not fail to note Clinton's acknowledgement of US interference in Greece, and he might even have considered stopping 17N's activities. This didn't happen, but at any rate, by this time, 17N's days were numbered. Unfortunately, not in time to stop one more - the last - murder, of a British military officer, Stephen Saunders in June 2000, on the pretext that he murdered Greeks' Serbiann brothers (even though the UK insisted that he was not involved in any bombing attacks over Serbia). This came at a difficult time for Greece, which had committed to staging the 2004 Olympics. The US was one of the first critics of Greek security tactics:
"The Greeks were furious at the US. They had mortgaged their economic future and national honor to the Games. Though the US government never threatened a boycott, Greeks were certain [the US] were spreading lies with some kind of extortion in mindl No one cared to point out publicly that 17N was too nationalist and public-relations-sensitive a group to shame Greece by attacking tourists or athletes at the 2004 Athens Olympics."
After Saunders' death, Scotland Yard got involved in the 17N investigations. But this was all to prive futile: 17N unravelled completely by accident, basically when their luck ran out, on 29 June 2002, when a bomb exploded in 17N member Savvas Xiros' hand, while he was setting it up with Koufodinas:
"The explosion below Savvas several yards backwards. 'Can you walk?' Koufodinas asked the crumpled figure. 'No,' Savvas grunted. 'leave!' he had lost three fingers of his right hand andboth eardrums. He had blast particles in both eyes, damaged blood vessels in neck and brain, and pressure and burn damage to his chest and lungs. a cold-blooded fanatic would have finished off Savvas to keep him from talking. Long friendship prevailed... Koufodinas embraced him and left... An hour later the Port Police found the second bomb and the bag with savvas' revolver, two hand grenades, keys, and telephone card thrown by the blast... The .38 Smith&Wesson had a history that could be recovered frm the effaced serial number. In 1984, it had been taken off the corpse of Christos Matis, the young policeman shot dead in a bank robbery, the 6th of 17N's victims. here, after 27 frustrating years, was the final mistake the Greek police and the CIA had been waiting for."
Koufodinas' action here tells us that his ideology did not prevail in a freindship. This is in fact very typical of Greeks. Their emotions prevail, even in the face of logic. Koufodinas was no exception. It cost him his life's calling. Perhaps though he had gotten tired of setting up bombs - maybe he just wanted to give up this lifestyle, and by letting Savvas live, he had found a way to do it.
In the summer of 2002, I was a new mother with very young children living in a not so well-connected Greece. The 17N arrests, as they were being reported all day on television, were an addictive diversion from raising babies. That summer was a busy one for Greek media, as they unravelled 17N's history, displaying photos of the members as they were discovered one by one, and the 'yafkas', the numerous safe houses containing the incriminating evidence. When Savvas was finally able to speak, the Greek world was amazed to discover that Savvas came from a poor family with 10 children, and his father was a priest. We were even more astounded to hear that not one, but two of his brothers were also involved in 17N's murderous activities: 17N was beginning to look like some kind of family business. Over the next month, more arrests were made, as many as you can count on your fingers and toes. Was that it, we wondered? 17N was made up of a closely knit secretive family and friends, who kept their activities well guarded, while they lived among ordinary Greek citizens in various parts of the country.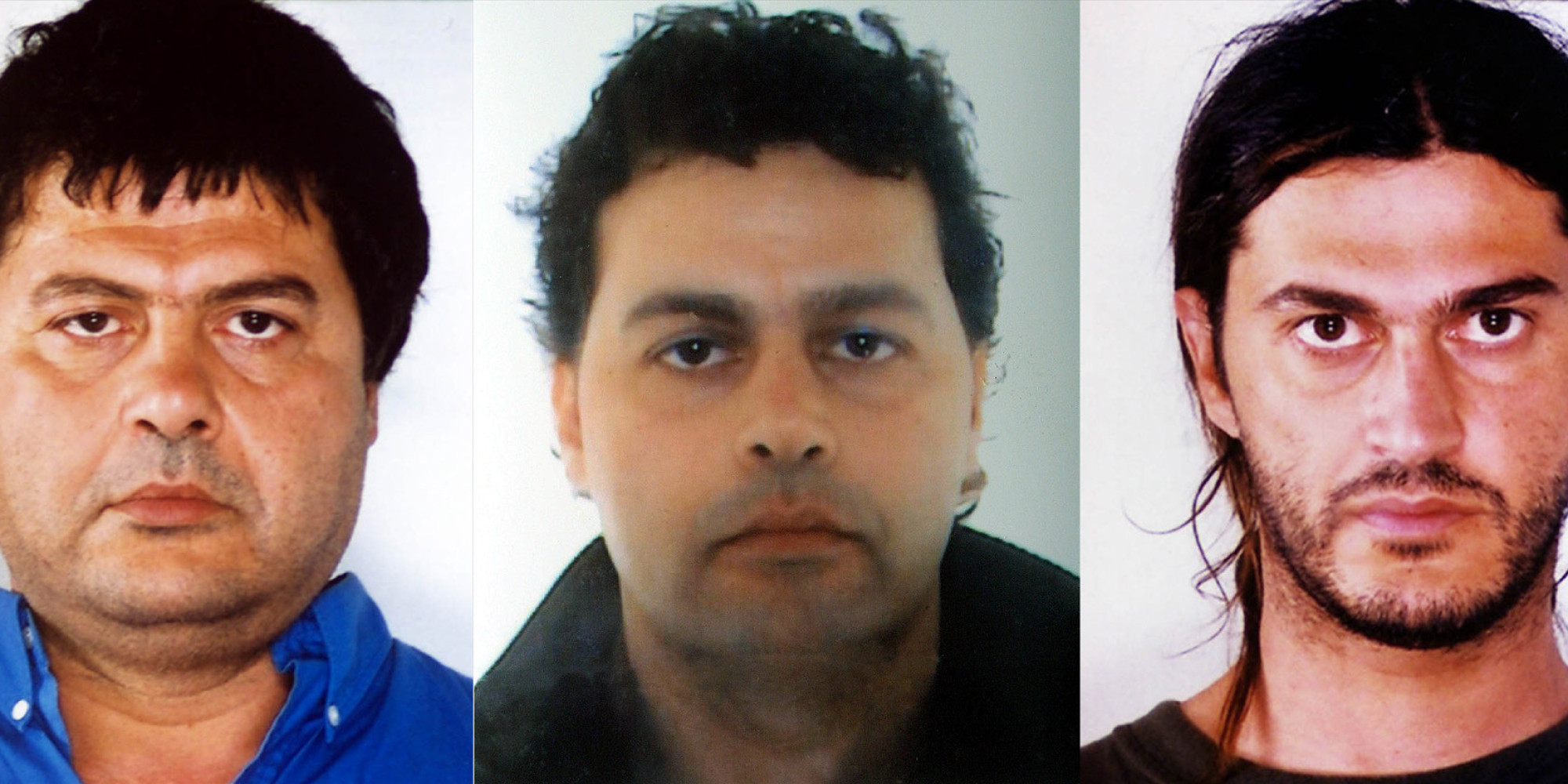 Christodoulos, Savvas and Vasilis Xiros
When Savvas was finally able to speak, he basically sang. He clearly wanted to live, not die. The evidence eventually led in mid-July to the capture of 17N's mastermind, Alexandros Giotopoulos who was holidaying on the remote Greek island of Lipsi, but not Koufodinas, who also preferred remote Greek islands for holidays. Instead of hiding in Gavdos where he had a modest holiday home, Koufodinas chose Angistri, close to Athens. He camped there throughout the whole summer, without anyone realising who he was:
"The weather turned rainy at the beginning of September. Koufodinas was subject to migraines. the press was reporting imminent arrest of his partner Kiki. Koufodinas decided the time had come to redeem the honor of the organisation. On Thursday, September 5, 2002, he left his tent and newspaper clippings beside the dumpster and took the boat to Piraeus. having showered, shaved, and put on a new shirt, he called Kiki's lawyer to ask her help, then caught a taxi to Athens. On reaching GADA [the central police station], he told the driver to keep the change from a 100 euro note... When Koufodinas introduced himself to the police at the front desk, they were at first certain it was a joke at their expense. His fingertips ultimately persuaded them he was indeed the man they had been pursuing for the past 65 days."
GUW reveals details of the confessions and trials of the 17N gang members, which Kiesling attended. The 17N women, partners of the accused, although eventually cleared of charges, are noteworthy for their allegiances: Kiki, for example, had grown up in an orphanage and was clearly anti-American, even though she had a sister living in the US working in space research. Kiesling notes the pressure involved during the trials: they had to take place as quickly as possible in order to show that justice was being served but this could only really be done by plea bargaining, so that the end result pleased the prosecutors. There are also bound to be some 17N members who were never caught. In other words, we only know some of the story: the rest has been consigned to history.
The very different personalities of Savvas Xiros and Dimitris Koufodinas, who opened the way to the end of 17N, could easily have led to different circumstances: one cannot help wondering what might have happened had it been Koufodinas in Savvas' place, so that Savvas was the one who busied himself the next day erasing evidence, while Koufodinas was lying in a hospital bed making up alibis about his presence at the site where the bomb exploded.
More writing by John Brady Kiesling about 17N and US-GR relations:
https://www.huffingtonpost.com/john-brady-kiesling/savvas-xiros-and-the-gree_b_7112358.html
©All Rights Reserved/Organically cooked. No part of this blog may be reproduced and/or copied by any means without prior consent from Maria Verivaki.